02.14.2020
Friday, February 14, 2020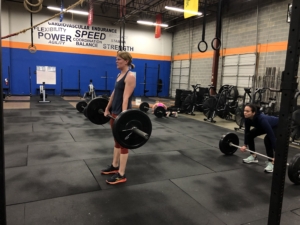 Back Squat:
Build to a heavy set of 3
Then,
3 Rounds for reps:
1 Minute Wall Ball(20,14)(14,10)(10,6)
1 Minute Toes to Bar(knee raises)
1 Minute Shuttle Run(rig to platforms)
1 Minute Rest
We are getting in some heavy back squats on this Valentines Day! Nothing says love like a heavy squat. Build up to a heavy 3 rep. The metcon will be wall ball, toes to bar and a shuttle run. The shuttle run will go from our rig to the first platforms. It will all be done for reps. Crush it!