Kirk Sorensen, Owner/Head Coach (CCFT, CF-L3)
Kirk grew up in the Raleigh area and has dedicated the majority of his life to service.  As a professional firefighter, Kirk spent 14 years helping those in need.  Now as Head Coach at CrossFit Brier Creek his passion lives on, through improving his athletes' overall fitness and health.
A CrossFit trainer since 2008 and one of the few Certified CrossFit Trainers (CF-L3) in North Carolina, Kirk is dedicated to the pursuit of excellence at CFBC as well as building a strong community.
Certified CrossFit Level 3 Trainer (CCFT, CF-L3)
BIRTHFIT Coach
CrossFit Endurance Trainer
CrossFit Nutrition Trainer
CrossFit Rowing Trainer
CrossFit Olympic Lifting Trainer
CrossFit Scaling Course
CPR & AED Certification
---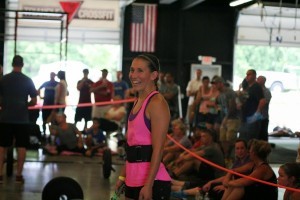 Lynn Sorensen, Owner/Coach (CF-L1)
Lynn is originally from Michigan and grew up playing soccer on a variety of soccer clubs in the Detroit area including Novi Select, Northville Sting, and the Michigan Hawks. She was a four year varsity player at Mercy High School outside of Detroit and she also played three years of club soccer at the University of Michigan in Ann Arbor. She closed her collegiate career with a NIRSA National Championship in 2000.
Lynn found CrossFit in 2012 after dabbling in cycling, hot yoga, and a variety of other athletic endeavors after her competitive soccer career ended. Lynn enjoys the team-like community and constantly varied aspects of CrossFit. When she's not at the gym, she can be found on the soccer field, walking her shih tzu or working for MetLife.
CrossFit Level 1 (CF-L1) Trainer
Fletcher Flyer Cycling Century with Team in Training, 2008
NIRSA Club Soccer National Champions, 2000
BA, University of Michigan
JD/MBA, Michigan State University
CPR & AED Certification
---
Eric Szymczyk, Coach (CF-L2)
Eric grew up in southeastern Connecticut. In middle school and high school Eric rowed for the Lyme-Old Lyme crew team and Blood Street Sculls, finishing his rowing career after freshman year at Northeastern University in Boston Massachusetts. He started CrossFit in 2007 when a friend found some workouts on the Internet, and has been dedicated to CrossFit since then – even while training for the City of Oaks Marathon which he ran in 2016.
Eric's desire as a coach is to see people do more than they thought possible. He likes accountability, wall ball shots, rucking, firearms, and beer. He dislikes time caps, dairy, and when people don't turn on their headlights in the rain.
CrossFit Level 2 (CF-L2) Trainer
CrossFit Movement & Mobility Trainer
CPR & AED Certification
---
Luke Barthel, Owner of Barthel Performance, LLC & Barthel Nutritionals, LLC
Luke is originally From Jackson, Mississippi and grew up playing all sports, especially football, baseball, and weightlifting. He played baseball at the University of Mississippi while pursuing a career in Health, Exercise Science, and Nutrition. The moment his playing career ended Luke was in the weight room and on the field coaching. Luke spent three years as a strength and conditioning coach at Ole Miss and 10 years as a strength coach at Duke University.  For the last 10 years Luke has been serving 100 young men on the Duke Football team. He has recently stepped away and is very excited to help people reach their fullest potential and become the best version of themselves with their health, nutrition, and physical fitness. He is positioned to make an impact with far more people that just a sports team and is fired up to start serving the CFBC community.
Luke is a Certified Strength and Conditioning Coach through the CSCCa since 2007. Luke is married to Shelby Lawrence Barthel and has two young daughters Ella Scott and Nolah Ann, and a Beagle named Bennitt.
CSCCa Strength and Conditioning Coach Certified
Owner of Barthel Performance, LLC & Barthel Nutritional's, LLC
USA Weightlifting Certified Sports Performance Coach
Basic Olympic Lifting Certified (BOLC)
Advanced Olympic Lifting Certified (AOLC)
Assistant coach Totten Training Systems
Operator of CrossFit Brier Creek Totten Educational Facility
Strength and Conditioning and Nutrition Consultant