04.09.19
Tuesday, April 9, 2019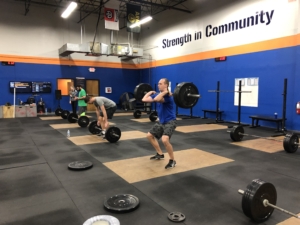 Snatch Complex:
On the Minute for 8 minutes:
Snatch Grip Deadlift
Snatch High Pull
Power Snatch
Build to a moderate weight
Then,
For Time:
25 – 20 – 15 – 10 – 5
Power Snatch (75,55)(55,35)(35,15)
Toes-to-Bar(knee raises)
Burpee
We will be starting out our hour with some snatch practice. This will be in a complex of three movements. The first two are skill transfer movements and the last one is a power snatch. After that we will get to use our refined power snatch technique in a quick burner.