The first week of our new Tier program is almost done.  We have made some modifications along the way and are really excited about the results we are seeing.  Change is not always easy, but you guys pretty much seamlessly adapted to this new program.  Thank you! We will continue to make adjustments and fine tune everything to ensure that our athletes are getting quality programming.  Today we will be working on the Olympic snatch.  After the warm-up, the majority of class will be focused on snatch technique and building up to a weight to start the snatch ladder.  Just like last weeks clean and jerk ladder,you will have 5 minutes to establish a 1 rep max snatch.  Only going up 5lbs(women), 10lbs(men) after each successful attempt.  After that we will take one minute to head outside and sprint 200 meters for time.  Have a great weekend!
Here is some Friday Olympic lifting inspiration.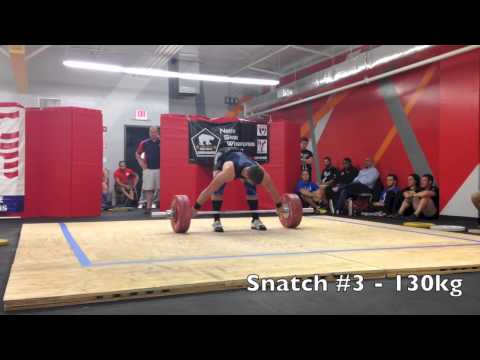 Workout of the Day (WOD) 9/27/13:
Snatch- Build up to an opening weight for the snatch ladder.
Then,
In 5 minutes: (RX, Tier 2)
Establish a 1 rep max
Go up only 10 lbs for men and 5 lbs for women after each successful attempt.
You must successfully make the lift before adding weight.
Tier 3:
Every minute on the minute for 5 minutes, perform 3 hang power snatches.  The coach will choose the weight.
Rest 1 minute:
Sprint 200 meters for time.
*Post snatch weights and sprint times to comments.